Aspect Eye Helms and Shockingly Festive Updates to Black Lion Chests
Zephyrite Aspect Helm Pack
Represent your favorite aspect with this set of beautifully crafted jewels. Each pack contains a Sun Aspect Eye, Wind Aspect Eye, and Lightning Aspect Eye. You can even perform a valuable public service by swapping them out to reflect the weather. Aren't we all meteorologists at heart?
New Hair and Accessory Colors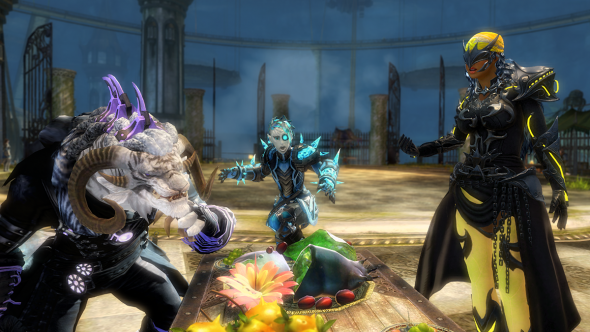 Show up to the festival with a fresh summer look! New hair and accessory colors are available in Total Makeover Kits and Self-Style Hair Kits.
New Hair Colors: Light Ash, Ash, Dark Ash, Cerulean, Dawn, and Dark Rose

New Accessory Colors: Electro Pink, Electro Peach, Electro Lemon, Electro Lime, Electro Blue, and Electro Purple
Festival of the Four Winds Chest
Unlock a Black Lion Chest to find a fresh assortment of items! Each chest is guaranteed to contain a redeemable Black Lion Statuette, a seasonal item, and two common items. You also have a chance to find an uncommon, rare, or super rare item, including exclusive skins.
Guaranteed Seasonal Item—Gnashblade Zephyrite Supply Box

There's no telling what you'll find for sale in the Labyrinthine Cliffs bazaar, and Black Lion agents have obtained an eclectic selection of rare, useful, and valuable items for you. This should significantly reduce the time you have to spend crouched under tables, digging through boxes of loose doorknobs to find that one genuine antique.
Exclusive Item—Storm Dagger Skin
Lightning is the only purely destructive aspect, but it looks so awesome that we just can't stay mad at it. Make it work for you with this charged up weapon. While it appears to be made of pure electric energy, your enemies can't avoid it by crouching low, staying in one place, and covering their heads.
What's in Stock
For a limited time, Black Lion Weapons Specialists are offering skins from the Phoenix Weapon Collection in exchange for three Black Lion Claim Tickets.
Returning Today
Branded Wings Backpack and Glider Combo

Lightning Kite, Sun Kite, and Wind Kite–50% off
Returning this Week
Golden Feather Wings Glider Combo

Jackal Rune Gauntlets

Jackal Rune Greaves

Magic Carpet Glider Combo
Leaving Soon!
Inquest Exo-Suit Outfit

Primeval Dervish Outfit

Suntouched Scythe Staff Skin

Dervish Package

Outlaw Appearance Pack

White Mantle Appearance Pack

Bandit Sniper Appearance Pack
Available Now in the Gem Store!
Log into Guild Wars 2 and press 'O' to access the Black Lion Trading Company for these great offers and more!