Celebrating One Year of the Guild Wars 2 Art Show
It's been over a year of great fan art from the skilled streamers on the weekly Guild Wars 2 Art Show, and to celebrate, we'd like to let some of the artists introduce themselves in their own words. Be sure to check out their websites and portfolios for more examples of their work, and watch the recordings of their streams for speed-painting, sketching, art tips, and more!
Maliki (France)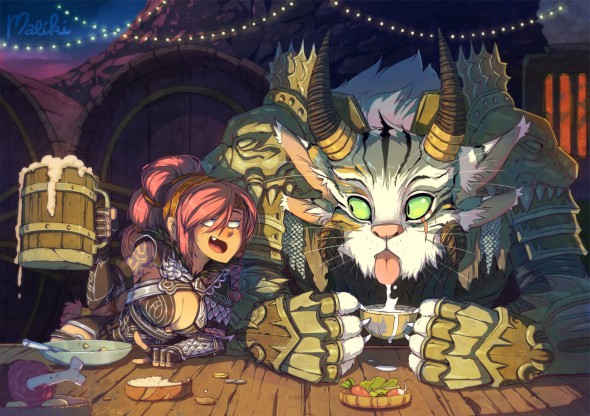 Watch the Stream
English Website
French Website
"My name is Maliki. I've been creating comics (both on the Internet and in published books) and writing novels since 2004. That's 425 comic strips you can read for free on maliki.com, 7 books published by Ankama, an art book, one spin-off, two novels…and now, thanks to my readers' patronage on Tipeee, I'm starting a new adventure with the self-published 'Maliki Blog.' As a blogger, I mostly get my story inspiration from my day-to-day life. As a gamer, these stories are often related to video games! :p"
---
VooDoo Val (United States)
"I'm a freelance digital artist from California specializing in character design and portraiture. I work as a full-time streamer not only to share my artwork, but also to help support the art community and raise up my fellow artists!"
---
Vasburg (Germany)
"I'm a freelance concept artist who loves to work on video games. Over the years I've also enjoyed taking part in other projects, like book illustrations and designs for film and commercials. Also, I can hold my breath for longer than a minute."
---
Qesque (United States)
Watch the Stream
Portfolio
"I didn't play house as a kid. Instead, playtime consisted of great adventures, battles with dragons, and hiding from unseen enemies. Not much has changed since growing up, though most would agree that this makes me rather odd. However, I've never once tried to tame my imagination. Now I use it to create vivid illustrations and paintings that I enjoy sharing with others. I may be odd, but I also love what I do."
---
Astri Sjursen (Norway)
Watch the Stream
Portfolio
"I'm an illustrator/concept artist from Norway, currently working freelance in the gaming industry! I love painting women, playing RPGs and consuming unhealthy amounts of coffee."
---
Landylachs (United States)
Watch the Stream
Portfolio
"Hello! I'm Landylachs, or Liz Liu. I'm a fantasy illustrator, and I love Guild Wars 2's aesthetic and worldbuilding, especially for the charr and sylvari races! My current main is a sylvari necromancer, which is possibly influenced by my fondness for Trahearne. :)"
---
Thank you to all of the artists and fans who have made the Guild Wars 2 Art Show such a success! As always, you can see all of the pieces created on the show on the official Guild Wars 2 Art Show Flickr album.