Community Showcase 3: Creative Contributions from Guild Wars 2 Players
Welcome to the community showcase, where we'll be highlighting some of our favorite amazing projects, activities, and other fan works created by Guild Wars 2 players from all over the world! This month's selection includes everything from art to guides to cosplay. Check it out below!
Isvoc honors the sacrifice of the dragon Glint with this bittersweet tribute.
kleptomaniacsisil's charr, Chiron Sorrowhaunt, gets extra points for expressiveness.
Sculptor apolloflewtothesun created a great wurm, which is much safer than fighting one (as long as you like wurms).
Itstartsatdusk composed music for the battle against Tequatl the Sunless to give the fight its own unique score.
zacksuckatlove has penned a heartfelt ode to the Ice Bow #4 skill in the song aptly named "Ice Bow 4 (I'm Gonna Miss You)."
Sarah Lehmann knitted this adorable little quaggan, which currently lives among succulent plants rather than under the sea.
Cosplayer Lini Lehita is looking forward to portraying Kasmeer Meade again this year. Check out her awesome gallery!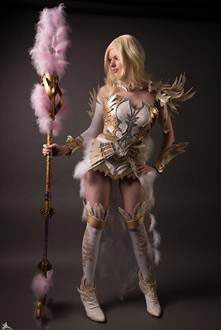 Mosi Cosplay & Craft has done a tremendous job showing the strength and power of a Tyrian adventurer.
Is Miez Cosplay a real sylvari? It's a tough call—somebody consult the Pale Tree!
If you love playing engineer (or would like to learn how to love it), check out dedicated tinkerer Wolfineer's handy site and YouTube channel for a compilation of handy guides, build suggestions, and more!
German fan site GuildNews.de has created a series of Let's Play videos all about the story of Guild Wars 2. Prolific content creator Sputti is on hand to guide you through the branches of the personal story, and the series is even recorded in front of a live audience so that players can join in or ask questions. You can find all twenty-eight episodes of this German-language series right here.
If you want to find out where that entire story falls within the universe of the Guild Wars® series, GuildNews also provides a complete timeline with plenty of links to lore articles, explanations, and long-lost secrets. The Durmand Priory might have found its match!
We love seeing fans' works of art, creativity, and community organization from around the world. Keep up the excellent work! Hungry for more Guild Wars 2 fan projects? Ready to show off your own? Head to the official Guild Wars 2 Tumblr and read up on the submission guidelines! You can submit your works via the Guild Wars 2 Tumblr, send us a tweet @GuildWars2, or share on the official Community Creations subforum.
Read more https://www.guildwars2.com/en/news/community-showcase-3-creative-contributions-from-guildwars2-players/