The Countdown to the ESL Guild Wars 2 Pro League Season One Finals Has Begun!
Seven weeks of the Pro League regular season are in the books, and the time has come for the top teams from North America and Europe to prove to the world that they have what it takes to claim the title of Season Champion. With $100,000 USD on the line, a new meta taking over, new team compositions and builds entering the fray, and new tournament rules in place, anything can happen.
Join us on the official Guild Wars 2 Twitch channel on Saturday, February 20 at 8:00 AM Pacific Time (UTC-8) for the epic conclusion of the inaugural season of the ESL Guild Wars 2 Pro League. You'll also be able to catch the broadcast in Chinese, French, German, and Spanish.
If you'd like to attend the event in Leicester, England in person, you can still purchase tickets from Eventbrite.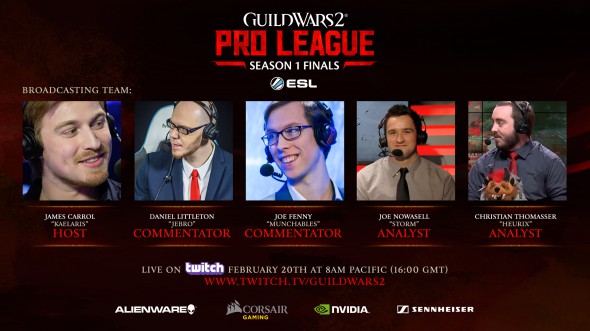 It's Time to Celebrate!
To celebrate the season finals, we'll be enabling the Greater Call of the Mists bonus (+15% PvP rank-point gain, +25% reward track progress, and +200% magic find in PvP) for the entire weekend of the event. Fans who tune in to the livestream on Saturday can enter into one of our many giveaways for Corsair and Sennheiser peripherals, gem codes, and—for the lucky few— your choice of one of the original precursor weapons!
The New Guild Wars 2 Pro League Website Is Live
Today we launched the brand new Guild Wars 2 Pro League website, where you'll find news, information on Pro League teams, matchup schedules, on-demand videos of past events, and more. Keep an eye on the official Guild Wars 2 site and Competitive.Guildwars2.com this week for interviews with our four Pro League Season One Finals teams and more information on PvP League Season Two, which kicks off next week on February 23.
Catch Up on the Story of Season One
If you aren't totally caught up on the Pro League storylines, community member Michael from GW2Highlights put together two short recap videos for both the North American and European Pro Leagues. Check them out below!
North American
European
We'll see you on Saturday!
Read more https://www.guildwars2.com/en/news/the-countdown-to-the-esl-guild-wars-2-pro-league-season-one-finals-has-begun/